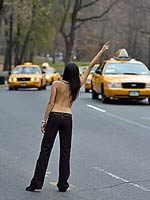 By Anne Krueger | August 19, 2008
Every Sunday, weather permitting, the guy down the street mows his lawn without his shirt on—and nobody gets their panties in a bunch about it. But if I stripped off my Dunder Mifflin T-shirt while clipping the hedge? There'd probably be a cop car and the crew from America's Most Frightening Videos in my driveway faster than you can say "put on a pair of pasties."
The feminist in me feels that just isn't fair. If baring chests in public is legal, then it should be legal for everyone—especially since I've seen many a shirtless man who has far bigger boobs than I do.
GoTopless.org
agrees with me. Members of the organization (started by Rael, the spiritual leader who claims to have been visited by aliens…but that's another story) believe that as long as men can go topless, women should have the same right.
According to
GoTopless.org
, the 14th amendment of the U.S. Constitution guarantees equal protection under the law for women to go top-free in public wherever men are allowed to, which is almost everywhere in the 50 states. (I did find one township in Maryland where men can't parade their pecs.)
Lest you think this Go Topless movement is organized solely by men with breast fetishes (which would be most men, based on my informal surveys), you should know that women are fighting the bare-boob battle everywhere, from Florida and Maine—where citizens of one town made "Topfree Lawnmower's Association" T-shirts to show their support of one free-spirited woman—to Canada.
And on Saturday, August 23, Go Topless rallies will be held at noon local time in cities across America, from Los Angeles and Santa Fe to Omaha and New York—even though it's been legal for women to go bare-chested in NYC since 1992. (In fact, a woman was recently awarded $29,000 by the city for being wrongfully detained for being bare.) "All women are encouraged to join us at these rallies with their peaceful femininity and unshakable determination," says Nadine Gary, a San Diego Raelian helping to organize the event. She adds, "A change in the law and in mentalities will prove to be a healthy change for the American population as a whole."
Most of the women I asked about equal boob-baring rights are for it, although they're not raring to rip off their tops (except maybe at the beach). My co-worker Susannah echoes the majority when she says, "Americans are far too uptight about matters of the body, so yes: Women should have the same rights as men. In theory, hell yes, I would do it. In practice, legality wouldn't stop my fellow Americans from being uptight and judgmental, so I'd likely hold back in most circumstances—which is how I've (slightly resentfully) approached public breast-feeding."
I guess I think that's the point of having rights. You don't have to exercise them if you don't want to. And when others are exercising theirs in a way that's repulsive to you? Just don't look. That's how I handled it when Pierce Brosnan ripped off his shirt near the end of Mamma Mia. I understand why some folks may not want to look at my middle-aged boobs, because I sure didn't want to look at his.
LOS ANGELES:
Venice Beach "Where Navy Street meets the sand" on the board walk
NEW YORK CITY:
Central Park: Merchants Gate at Columbus Circle (59th Street at the corner of Central Park West and Central Park South), right by the giant Time Warner Mall
MIAMI:
South Beach meeting time 12:30 PM -- 7th and Ocean Blvd across from News Cafe. Look for the topless women:))
CHICAGO
Lakefront (across from Buckingham Fountain)
HAWAII:
Honolulu and Hilo Big island
AUSTIN, TX:
Hippie Hollow Park
BERKELEY, CA
noon to 1pm Sproul Hall on the Mario Salvio famous "free speech" steps
SANTA FE, NM
1-2pm Alameda Park between Guadalupe and Sandoval
OMAHA NE
"Heartland of America Park" near Downtown Omaha, Nebraska, and the parking lot is between Capitol Ave, and Douglas St. on 8th St. a link to the map is as follows. http://maps.google.com/maps?source=ig&q=41.25859%2C-95.926609
(starting time is not noon but 3PM for Omaha.
BLOOMINGTON, IN
at the sample gates on campus at Kirkwood and Indiana